Szczawnica Health Resort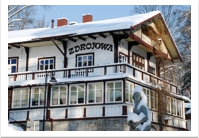 Szczawnica - The name of the town stems from sour waters called by the highlanders "sorrels". It is located in a picturesque Grajcarek valley of the right stream of Dunajec river between Strand of Radziejowa and Małe Pieniny at 430-560 m above the sea level, in the Polish - Slovakian border zone. It has been known as a spring. Its dynamic development as a health resort took place in the middle of the 19th century, when Józef Szalay, who built the first baths, erected new spring buildings and guest houses, created the architecture for the discovered springs: of Magdalena, Waleria, Jan, Szymon, Helena and Aniela, was the owner of the resort. He extended and modernized the Spring Park, erected the spring chapel. He invited prominent persons of the epoch to Szczawnica, among others the distinguished balneologist Józef Dietl. In 1962 Szczawnica was awarded the city rights by incorporating the neighboring villages - Szlachtowa and Jaworki. Szczawnica is the perfect starting point for foot walks in Pieniny Mountains. The health resort has 12 mineral waters springs. These waters are hydrogencarbonate, sodium, iodide, bromide sorrels rich with mineral salts and numerous microelements. Especially recommended in illnesses of airways, stomach catarrh, constipations, urinary diathesis, arterial sclerosis, with high cholesterol levels, osteoporosis.
In addition to its resources as a health resort, the city offers plenty of tourist attractions all year round. It is an ideal place to pursue active recreation and explore the value of nature and landscape of the Pieniny mountains. There are plenty tourist routes and hiking and bicycle trails that will take you to picturesque parts of the Pieniny National Park and nature reserves. Szczawnica features excellent areas for horse-riders, water sports, paraglider and angling enthusiasts. The attractions of the city include a chair-lift up to the peak of the Palenica Mountain which offers a breath-taking view of the Tatras and Pieniny Mountains. In winter, Szczawnica, with its numerous ski-lifts, turns into a great attraction for skiing enthusiasts. As the city is situated near the state border, pedestrians and cyclists can use a border-crossing to visit the Slovak part of the Pieniny. One of he major attractions of Szczawnica, the gorge of the Dunajec river, is a wonder of nature. A trip down the Dunajec Gorge by highlanders rafts is an unforgettable experience. Szczawnica, a wonderful spa and a thriving tourist resort, is an excellent place to spend holidays, for anyone, at any time!